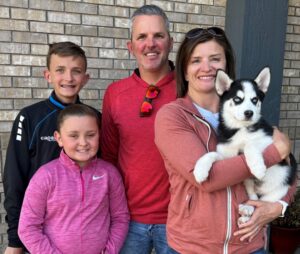 Bryan A, Echo and family
Hello Brian! Echo (formally Benjamin Buttons) has been a GREAT addition to our family and we are so thankful for you, Tori and Monarch Pomskies. He is getting along great with our current dog, as well as all the neighborhood dog families. Echo is very smart and has been easy to train. He picked up walking on a leash on the first try! Thank you for your hard work in preparing him for us! Our kids love Echo, and he even gets to go on the trampoline. The numerous amounts of chew toys have kept him very busy; he loves to play! Thank you to Monarch Pomskies and the Stotts family for our new fur baby! We appreciate all you guys did and made bringing Echo to his new home very easy and enjoyable.
Dec 31, 2022
Misty L, Axel and Family
We as a family absolutely love Pomskies! My daughter got a Pomsky last year in April and we fell in love with him so hard. She is now planning on moving out of the house and taking her Pomsky with her. 'My Husband and I wanted to find our own Pomsky after experiencing what a great breed they are, bringing so much joy and love back into this home. Alter all the heart ache of losing pets that 'grew up with my kids, I have been searching For another wonderful puppy to embrace this home 'After some time, | luckily came across Monarch Pomskies on Facebook. | saw that they had puppies available so I went to their website, found and fell in love with one of their puppies, Bentley! I reached out to them and immediately they got back to me, much sooner than I ever expected! I was surprised and excited at the same time! Searching for Pomskies is not easy and finding the right breeders is even harder! How lucky was I to come across Monarch Pomskies!! They are a genuine loving caring Family that raise Pomskys out of nothing but love and passion, providing the best quality and care for them. 1 know this because of Bentleys behavior. We as a family feel so blessed to have received Bentley – now named Axel. He has brought so 'much joy and happiness back to us. He has the best temperament and affection. We can just tll he 'came from such a good family that raised him the way a puppy should be raised from birth. I would know from past experiences. They care where their puppies go and they stay in touch with us, which is so important to both of our Families. 'Thank you for doing what you do out of passion and providing Love and Joy for Families like us! We are forever grateful to Tor, Brian and the family at Monarch Pomskies!!
Dec 31, 2022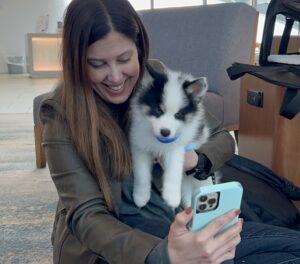 Ryan, Mitzy and family with Breck!
"Monarch Pomskies was very responsive and transparent. They worked with us and made sure that our puppy would be a good fit for our family. We couldn't be happier with our new addition!"
Apr 12, 2023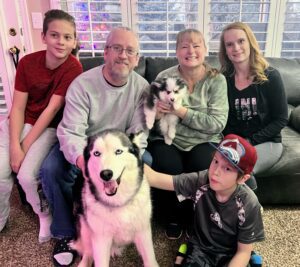 Kim and Little Miss Maisy!
"Just received our perfect little girl from Monarch Pomskies and couldnt be happier. Great communication through the whole process. Can't wait to spend many, many years with her!!! Thank you all so much for your help and for Little Miss Maisy (formerly Cher)! She will be very loved and spoiled!"
Apr 12, 2023